March Madness: 11 Steps To Help You Register For Classes
It's March and that means only one thing, March madness. Now of course March Madness is one of the greatest sporting events in the world, if not the greatest, BUT what I am talking about is the march madness of figuring out what classes you have to take next semester.
No matter if you are a freshmen or a junior, you're older now and you're a bit wiser…this means you now have more responsibility on meeting your degree requirements, and for soon-to-be-seniors this means those degree requirements turn into graduation requirements. (YIKES!)
BUT HAVE NO FEAR SIR CARTER IS HERE!!!!
There is an average of 8,000 undergrad and graduate courses per semester at Iowa State, and let me tell you I would take most of them if I could. I love registering for classes and I've actually helped some of my friends out, so I'm kind of an expert at this. 😉 If you follow these 11 simple steps I promise it will help you get through the March madness of trying to figure out which classes you want or need to take. 
#1 Find out when you register
Let the fun begin!! The first hurtle you have to jump is: signing into AccessPlus. (Whew, I'm tired already. 😉 hehehe.) Now that you are all signed-in you need to click on the Student Tab on the top right. On the left hand side there will be a menu with things ranging from Account/U-Bill to Web-based training; you will want to click on Current Stdnt Info option. On this page you'll find three boxes and the top box will have everything you need to know about YOU, such as your adviser(s), classification and selected graduation date. In this box in the middle should be your the day and TIME the registration process becomes open to you. The first day of registering for classes is March 28 for the 2014 Fall Semester.
****Another thing to look at in the box is if there are any holds on your account. Any holds on your account will stop you from registering for classes. Be sure to have those all squared away long before the day you are to register.
TO-BE SENIORS: Be sure your graduation day is correct. This is key for graduation things be sent your way that will be coming soon, and no this is not the best way to delay your graduation….even if you are in denial.
(A possible additional step – Schedule appointment with your adviser)
Some majors require you to meet with your advisers, others don't. If you want or have to meet with your adviser it would be best to do that ASAP. Some have sign-up sheets on their doors, others you have to email. Either way, make sure you sign-up in a the form they want you to. It's a stressful time for them too, and many students may want to talk to them too. No worries through, there is enough time in the day for every adviser to meet with every student, but just like anything else in life the best times will given to those who show up first. It's kind of like the Hunger Games, but not.
#2 Find and Print your Degree Audit
The Degree Audit system is an advising tool to help you understand what is required for you to receive your degree. Again, you can find this tool in AccessPlus. It is under the Student Tab, and in the left-hand menu you click on Degree Audit. You then click on the "Connect to ISU Degree Audit" button and the system will open up in a new window. In this new window, it shows a page with your degree(s) and it gives you an option to see a "What If" option. This "What If" option is for those looking to change or add a major or minor. For the purposes of registering for classes for your currently chosen major you DO NOT want this option, you want "Default Programs Listed." Now click on the "Summit a New Audit," which will open up a new page, and on this new page click the "Refresh List" button. Now your audit should be able to accessed under "Degree Audits Completed for Student" by clicking on the "Open Audit" button.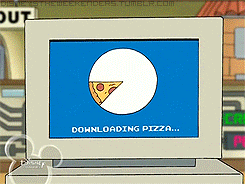 giphy.com
You have made it to your Degree Audit, YAY!!! Use up a couple of those printing credits on campus and print out that bad boy in black and white. (No need to use the more expensive color option) Use the right-click and select print.
#3 Highlight your Degree Audit
Because you were a smart college student, who saved their money by printing in black in white, you now need to highlight your audit for easy reading. You will need two colors to highlight with, lets say I chose blue and yellow, and you also will need to choose what the colors mean. I chose my blue highlighter to mean requirements already met and my yellow highlighter to mean requirements yet to be met. Luckily the audit is easier to read than it looks. For this step we are looking for the words OK and NO throughout the audit. Highlight OK requirements BLUE to mean the requirement has been met. Then highlight NO requirements yellow to mean the requirement has yet to be met. As you go along, also highlight the credits you still need to complete that requirement. The number of credits you still need for each requirement will be just to the right of this:
–> Needs
Now, just from a glance you can see how many of the requirements in your major you have been completed and which ones  you need to take more credits in to complete them. You officially now get to ignore ALL the requirements in BLUE.  Congrats on your accomplishments, you are so smart.
#4 Calculate Credits
giphy.com
Yes, you will now need to use your math skills. Looking at all the NO requirements, or now yellow colored requirements, we will have to add up all the credits still needed to complete that requirement. If you followed Step 3 these numbers you need to add up are the highlighted numbers next to: –> Needs. Lets say I have added up all the requirements and find I have 24 total credits left to meet all of my requirements and that I plan at being at Iowa State for only two more semesters. Now, if I were to take these 24 credits and DIVIDE it by the number of semesters I plan at being at Iowa State, two, I would receive an estimate of how many credits I need to take for the next two semesters. Here is the formula:
Carter's Example: 24 / 2 = 12
Formula: #Credits needed / # of planned semesters at ISU = # of estimated credits need to be taken per semester to meet requirements
Now, most classes are 3 credits, so this would mean that I need to register for 4 total courses for the last two semesters at ISU.
Carter's Example: 12 /3 = 4
Formula: # of estimated credits need to be taken per semester to meet all requirements / 3 = # of courses one needs to register to meet all requirements
Congratulations on making it this far, take a brain work due to your work using your math skills.You deserve it.
You are awesome.
#5 Finding courses using the ISU Catalog
The Academic Catalog has every class offered in every program at ISU for the academic year. If you follow the link you are taken to the Colleges and Curricula page of the 2014-2015 edition. On the left-hand-side menu in the gray area are the eight colleges at ISU and Interdisciplinary Programs, and you obviously should  click on the college you belong in. Both of my majors are housed in the Liberal Arts and Sciences college, so I would click on it in the menu and then find each major to bring me to their page in the 2014-2015 catalog. I then would click on the courses button at the top of that page to see all the courses with their names and class numbers within that major. There is also a short description of each course, and just below that it tell you if the course qualifies for one of the two university-wide requirements: U.S. Diversity and International Perspectives. You can also find a list of courses, regardless of major, for these requirements by following these links: U.S. DIVERSITY and INTERNATIONAL PERSPECTIVES.
***You may want this to help you figure out what the courses for U.S. Diversity and International Perspectives are all about. –> LINK
Another list of courses you are going to want is the Arts and Humanities course list. There are slight changes per year, so make sure you have the right edition of the catalog. (Usually the Catalog you use is the one with year you arrived to ISU, so for me it's 2011.)
You can pick the correct Arts and Humanities Course List here –> The Motherload of All Arts and Humanities Course Lists
#6 Choose courses AND back up courses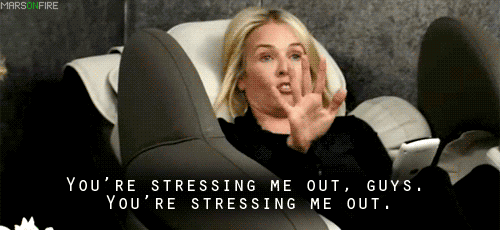 giphy.com
Now, now there. This part is the least stressful, in fact it is the best step. Using all the list of courses above you can go through and find classes that meet the different requirements within your major. For more assistance about your unique major requirements you can head to your major's iastate.edu website. You don't know it? That's okay! Use the alphabetical index at the top of the ISU Homepage, link included, to find it. You can also always ask your fellow peers, upperclassmen or even your adviser. There are endless resources at ISU, you just have to look for them!
THE MOST important advice I can give here is to find more classes for each requirement and have some sort of ranking system. At this step we don't know what time the courses are being held during the week, or even if the courses you have chosen will be open by the time you register. So be thoughtful about your course selection and don't try to overload with one requirement. Write down the number given for the class, this is important in the next steps. Be sure to have that "fun" class too, and don't be afraid to try something crazy for an elective. You never know, it may change your life!
#7 Ask your friends/peers about the classes
Do research about your classes. This step is to help you eliminate some of the courses you are thinking of taking, and the start of figuring out which courses are at the top of your list for this next semester.  Who teaches the course? Is there a certain professor I should have for this course? Does the course require lots of extra work outside of class? No one knows the answer to the questions then your peers…I mean some of them will have just taken the courses. Their advice should be key for what courses you end up choosing to take in the same semester. Don't make college harder than it ready is by overloading your semester with difficult required courses. No two courses are the same and the difficulty, and how the course is difficult will be different for every course too. I didn't do this at the beginning of my time as a Political Science major and it is one of my biggest regrets of my college career. 
#8 Use the Class Planner
I'm not a computer nerd by any means. I do know my way around a computer, but sometimes I hit this wall of tech knowledge and I just cannot jump over it. The Class Planner is one of those walls. All I know is that this Class Planner is very picky on which Java you have, which browser you use, and what your security settings are. You can always go to the IT Help Desk in Durham Hall to help you if you cannot figure it out. My suggestions are as follows:
Use a PC. Don't have a PC? Ask a friend if you can borrow there's and you two can plan your semesters, and the class planner, together!
Use Internet Explorer. Yes, a very old browser but it is the only one I have ever successfully used.
Use a PC on campus. Head to a computer lab or head to the library; there are PC computers all over campus. Iowa State did invent the computer you know. 🙂
Now, using the Class Planner:
The first page will give you more tips on how to get the planner working. This website is the best tool ISU has for determining a class schedule, so I promise you all the work is worth it. To get the next page where you can select classes by majors you have to click the "Start Planning" button. This page is the start of making a potential class schedule, so make sure you have a ranking of all the classes you want to take. You see, some of the courses you have chosen may be offered at the same time, or the selection of courses you have chosen may have you in class for 5 straight hours with no lunch, or there is too big of a gap in-between courses so you are on campus all day every day. These are not nice schedules, so you would want to play around with the courses you want to take to make a more sensible schedule. You need to have time to study, have a part-time job, or attend that meeting for that club. Just make sure you have enough credits to graduate on time in the number of semesters you have left at ISU. (This was step #4)
Now, on this new page where you start selecting courses you will need to select "Fall 2014" from the drop down menu at the top right of the page. A scroll-down menu will appear with all the different majors/programs at ISU. Scroll through and find the program that the class you want to take is in and click on it. On the right the scroll-down menu will appear with all the courses available for the Fall 2014 semester. On this new course menu, the information is all sorted numerically. This is where the number given for the class is important, you will be able to speed through this step if you followed step 6. When you find our course, click the "Add Class" button. The class will drop down to the bottom space and just to the right you will start to see the number of credits the course is and how many sections of the course are. The "View Sections" button will be just to the left of the course and then you can un-select sections. (Class at 8 am? No thank you, un-click.)
Once you have met the number of credits you want to take this semester click on "Generate Schedules." This is where a sample timetable of your week of the new semester would like. If you have courses with lots of sections, there may be more then one potential schedule. Document which sections you prefer, this will be helpful when you actually register. There is a possibility that it tell you there are no potential schedules that could be generated, this means you need to go back and see what classes conflict with each other during the week. You will have to delete a course and find a new course to take it's place. Keep doing this until you are happy with your potential semester timetable and you're happy with the courses selected. It's all just a huge puzzle, and you have to work your way through it and when you do you will feel AMAZING.
#9 Ask your adviser(s) about the classes AND
ask for your RAN number
compendiumblog.com
Your adviser's job is to advise you…weird…so let them advise you. They will be as excited as my buddy above, so talk to them and discuss the classes you are thinking of taking. Now even if you don't like your adviser, it doesn't matter at registration time. They have your very important RAN number so suck it up, play nice, get your RAN number, and run out. (You can change your adviser, just ask your department!) Now, why is this RAN number so important? Well, it is the password that allows you to log into the system that officially lets you register for classes. If you don't have this number, you will not be able to register for your classes! 
Be sure to talk to your adviser about other things then your classes too. They are people in the industry, so talk to them about what you to do after you graduate. They have millions of connections, they just might be able to hook you up with an internship or even a job after graduation. Cough cough, letter of recommendation, cough cough.
#10 Make adjustments as YOU want them
Now, you just took ADVICE from both peers and advisers. The key word is advice. In the end, it is up to you what classes you take next semester. Yes your adviser should help you make sure the courses you have chosen meet your requirements, but at the end of the day it is up to you on how many courses you take each semester or if you should take that random course. Take the advice, weigh it, and then make your own decisions to create YOUR schedule. You are the one who has to be happy and live with the classes chosen not your adviser.
#11 Pick an ideal schedule AND a few backup schedules
After you have received all the advice you can receive, head back to that Class Planner and choose your ideal schedule and a few backup schedules. If you register later in the registration process you are probably not going to get into that wine-tasting class. A course that has 5 different sections? The one you chose might be full, so you'll have to know what your schedule would look like if you chose a different section. Just be smart; you won't be able to predict everything that happens when you go and actually register, but you will be well-prepared if you have backups.
And magic! If you followed these 11 steps you are ready for anything on the day you register for classes! Now enjoy the rest of March, and do not forget when you register for classes!! If you have questions or need help just ask! I hope my detailed steps help guide you through the madness of March, and may the Class Registering Gods be with you.