What I Learned From My Freshman Year
Hey, what's up guys?
Would you guys believe me if I told you that this has officially been my first year as not only a Cyclone Life Blogger, but also as a college student? I remember so many things from this year, from moving into my dorm to singing All Of Me at the M-Shop to making some awesome friends to getting to write along some amazing people here all thanks to you guys.
[Here's me and some friends during the night of the Masquerade Ball.]
Man, so many things about me have changed and a lot of who I am has remained the same. So I figured why not share with you lovely readers what Malik Newson (That's ME!!!) has learned from his first of many years in Cyclone Nation.
CHANGE: My Major – If you saw my "How To Cure Your Major Switch Blues" (click here to check it out, don't worry I'll wait till you come back), then you know that I made the bold choice to switch majors from Mechanical Engineering to Journalism & Mass Communications (That is a BIG JUMP). Yeah, no kidding, but also I know that, ultimately, it felt like the right decision and while my future will change, I'm still me. SIDENOTE: I joined a fraternity (Alpha Kappa Lambda to be precise).
[Come visit me anytime!]
SAME: My Passions – I don't know if I mentioned it, but I loved to write, sing and rap in high school. I was pretty good at it, if I do say so myself. And I'm glad to say that that part of me  stayed the same. I mean, I joined a few clubs and even formed one to keep those passions alive. Why would I stop doing the little hobbies that I love?
[Have you not seen my tattoo yet? It speaks for me!!!]
CHANGE: My Hair – Now, I know what you're thinking: "But you've got like no hair." True, when I was younger, I would get my hair cut like weekly due to quick growth and desire to have my head drawn on. But now that I'm older, I said to myself, "Why not let it grow?"  Here, check out my head as a kid versus my curly hair now.
[Before, it was nice and clean cut (HI MOM!!!)]
[Now, it's just nothing but CURLS!!! (…Nice fro.)]
SAME: My Nature – Ambiguous, ain't it? What I mean is that I have always been generally accepting of others and never had a big habit of judging people. My mom taught me to always accept people because I don't know what their walk in life was like. It's just what I believe and I hope to show my future children. I think that is a good philosophy to live behind.

[(What?! I can't enjoy waterfalls and mountains!)]
BOTH: My Past, Present and Future – Okay, now MaLaKai came up with this one, but it took me a bit to get it. I mean, I get that the past is the same, but how are the future and present the same as well while all three are able to change? What it means is that you shouldn't worry about how your past could affect your present since the present is here now and instead channel that worrying into hope for the future, knowing that while our plans can change, our dreams and aspirations won't change unless we want them too. I think all of us should try to think about this sometime.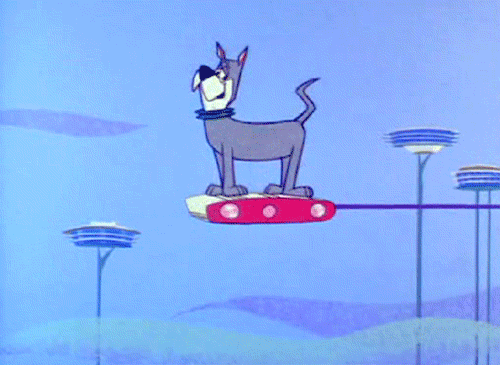 [I hope the Jetsons are there!]
Anyway guys, I hope you enjoyed my list of what I learned from my freshman year. If you can't get enough of us freshman bloggers, check out Cyclone Life for new posts from us and while you're at it, click here to check out my list of 15 Perks Only College Students Can Get. I promise to make you guys learn a little more about my life here this next year.
'Til next semester, guys…