I'm Not a Morning Person, But That's Okay
I've always been someone that likes to have a back-to-back schedule.
However, to do so, I had to clump my mornings with classes, even though…

…I'm not a morning person.
But it was fine, really. Because classes wake you up a little. You take notes, listen to what your professor is saying, sit back for a good hour of knowledge, and voila–your morning classes are over!
But now my dilemma this semester is my long breaks. Extremely long breaks. Like 4-6 hour long breaks. So after my classes at either 9am or 11am (depends on they day), I'm left with a whole morning to do more productive things. And that takes more effort, and more thinking and…

The problem with long breaks is that motivation deflates…unless you are productive, and that is something I'm not used to being so early.
I'm more productive in the afternoons and night-time. I like having my classes in the morning so I can then eat and go on to do my thing after the sun is up completely.
However, with my schedule this semester I had to learn to be productive in-between mornings, and it has been harder than I expected. What has helped? During these long breaks?
1- Coffee
I didn't drink coffee at all until I got to college. But within the past few year and this semester especially, I need it, and I learned to love it. I drink coffee almost every morning after my classes and it really helps with that hiatus and to raise my motivation levels.
2- Music
This is a huge factor. I have a playlist that pumps me up every morning when I'm walking around on campus. And believe it or not, that playlist consists of old songs. I grew up listening to 50s-80s pop and rock, and that has always been the kind of music that really wakes me up. A few songs that almost never fail are:
Take On Me – a-ha
Go Your Own Way – Fleetwood Mac
Juke Box Hero – Foreigner
More Than a Feeling – Boston
Edge of Seventeen – Stevie Nicks
Anything AC/DC
Anything Queen
Anything Elvis Presley
Yes, I mostly live for rock & roll, but I have such a mixed taste in music and it's all over the place. So, if that doesn't work, I blast out Taylor Swift, Beyonce, or anything popular. Don't worry, I'm from this generation too!
3- I write something
Either for Cyclone Life or just a little piece of something I think about right then. It helps with waking up my brain from drifting away and succumbing to the tiredness. I like to stay active physically and mentally, and I say this as I'm writing this blog post at 11:30am.
4- I learned how to power nap
…or at least I'm still trying to learn. I has happened once or twice that I went over my nap time and didn't hear my alarm–2 hour naps are a bad idea. But I'm learning! I go back sometimes and when my body feels like it really needs to rest, I set up my alarm for 20 minutes and wake up feeling much, much better, and ready to be productive.
Whatever your method might be, just make sure that you keep your brain active, or help it recover the energy it needs for you to finally say: "okay, I'm ready to be productive today."
Don't worry if you're not a morning person. Clearly I'm not either, and there's no set way to become one…but that's okay! Find what works for you and try to make the most out of your mornings!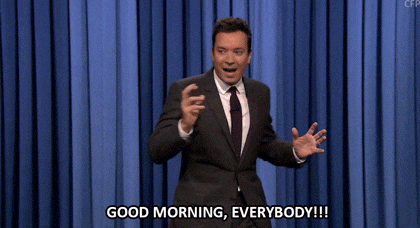 HAPPY MORNING!