My Iowa State Bucket List
So yeah, I'm a bit older now!
Okay not that old, but as a junior, I'm so close to graduating and two thoughts ran through my head. 1.) These really have been the best 3 years of my life and 2.) I still have one more year and I haven't done everything I could possibly do.
So I decided to compose my very own college bucket list.
Homecoming in your college town is an amazing experience that you can attend all four years while at school, but there is only one thing that can make you a true Iowa Stater.
I mean sitting in the stadium, cheering for my Cyclones until I lose my voice, and getting on national TV for this one to count. All I would need is for Iowa State to take the CyHawk Trophy back to make it complete!
Check out one of The Workspace courses
Arts and crafts was one of my favorite things as a kid. A few of mine are still holiday decorations. But how about making a vase for my room when I get my own place to really make the room pop!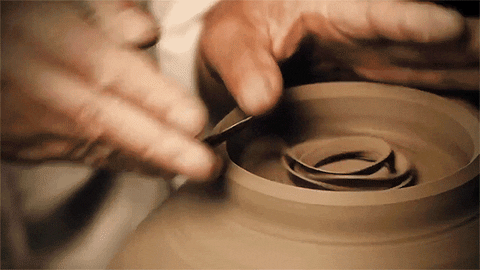 [Okay so I won't be this good at the start, but soon…]
Eat every dining center/Welch food cart we have
I was pretty close to knocking this one off until they decided to rebuild Windows in the basement of Friley. Now I must wait…
Get an out-of-state internship
I will also count study abroad. I love Iowa and Illinois, but I need to get an internship that allows me to experience a new city or even a brand new country.
Win an intramural championship
I want one of those shirts! They look so cool and I want one so bad! Just hope they have them in 2XL.
Visit every building on campus
From what I've read, there are over 160 buildings on Iowa State soil. Time to get my FitBit steps up!
Be in a flash mob/peaceful protest
After seeing this Carlton flash mob (led by Carlton himself), I need to be in a flash mob. If we did the Carlton, best believe you'll see me front and center!
Interview President Leath/Get a high profile interview
As an aspiring journalist, I need to make it my goal to get a high profile interview before I graduate. President Steven Leath is the prime example of a high profile interview. It will be amazing if I can get that story for the Iowa State Daily!
Ride every color of CyRide
There are 24 different CyRide routes (excluding the Moonlight Express) and while I have a system of which ones I generally take, it seems like it's time to branch out.
That's my list for now, as I am always looking for ideas that my friends want to do before they graduate and I will do my best to MAKE all of this happen. The only person that can stop me from doing all of these incredible things is ME! And I'm not the type to fall short of my goals. To everyone reading this, I challenge you to make your own college bucket list. It could be the most impossible thing or the smallest task; as long as it can change you for the better, then go all out for it.