Cooking Made Easy: Part One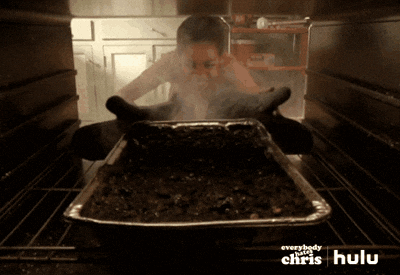 I don't know about you, but cooking in college is rough. You have to meal plan, try to eat healthy, and you're on a budget. On top of that, maybe you don't have a lot of time to make a nice meal.
Now, I'm not the BEST cook in the world, but lately I've been really excited to try new things when it comes to cooking. I got a coupon in the mail for a food service that sends you meals every week ($40 off a $60 box.. I couldn't pass it up!), so I decided to try a week subscription. I received three meals that served two people. So, I grabbed a friend and started cooking!
The first meal is: WHEN STEAK MET POTATOES
This box included: 2 sirloin steaks, Yukon gold potatoes, kale, a shallot, black peppercorns, sour cream, and beef stock concentrate. This meal was only 525 calories with a total prep time of 10 minutes and total cook time of 30 minutes.
Step 1: Preheat oven, wash and prepare produce
Preheat oven to 400 degrees.
Wash all produce.
Cut potatoes into 3⁄4-inch-thick wedges. Remove and discard stems and ribs from kale. Chop or tear leaves into 1-inch pieces. Halve, peel, and mince shallot. Use a mallet or heavy pan to pound and crush peppercorns in their bag until coarsely ground.
Step 2: Roast potatoes
On a baking sheet, drizzle in oil with the potatoes and add a pinch of salt and pepper. Roast in oven for 30-35 minutes until golden brown, tossing halfway through.
Step 3: Cook kale
Melt 1 TBSP butter in a large pan over medium heat. Add kale and a splash of water. Cook until leaves are wilted, 4-5 minutes. Season with salt and pepper. Remove from heat, keeping kale in pan.
Step 4: Sear steak
Heat a drizzle of oil in a medium pan over medium-high heat. Season steak with salt and pepper. Add to pan and cook to desired doneness, 4-7 minutes per side. Remove from pan and set aside to rest, 5 minutes.
Step 5: Make peppercorn sauce
Heat another drizzle of oil in same pan. Add shallot and 1⁄4 tsp crushed peppercorns. Cook until shallots are soft, 2-3 minutes. Add stock concentrate and 1⁄2 cup water. Bring to a simmer and let bubble until reduced by half, 2-3 minutes. Remove pan from heat, then stir in half the sour cream.
Step 6: Make creamed kale and plate
The finished product was delicious. The only thing that we would have changed differently was crunching up the peppercorns more. The cool thing about this is, that you could go get these ingredients at the grocery store for cheap and still make this yourself. It was a very easy process, and if I can do it, so can you! Stay tuned for two more delicious meals!