It's a Career Fair Time of Year
While summer seems impossibly far away (especially with piles of snow on the ground!), it's time to start thinking ahead to your summer internship or first post-grad job! Iowa State offers great career services and databases of job opportunities like CyHire, but one of the best ways to get your name out there to potential employers is to check out a career fair!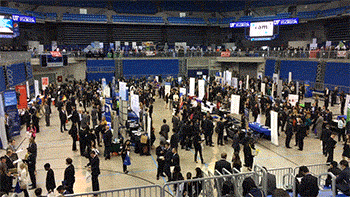 Career fairs allow you to talk with representatives from the companies you're interested in, learn about projects they're working on, and share your resume/portfolio directly with them so they can put a face to the name on your application materials.
The idea of talking to potential employers one after the other might seem intimidating, but with proper preparation and confidence, you could land the job you've always wanted. Sound like an opportunity you'd like to take advantage of? Check out this list of times and locations of the upcoming Spring Career Fairs:
Agriculture and Life Sciences Career Day: February 1 / 10am-2pm / Memorial Union
Engineering Career Fair: February 7 / noon-6pm / Hilton and Scheman Building
Business, Industry and Technology Spring Career Fair: February 8 / noon-6pm / Hilton
People to People Career Fair: (Focused on Human/Social Services, Education, Health/Wellness, Government, and Hospitality) February 8 / noon-6pm / Scheman Building
Design Career Fair: March 2 / noon-5pm / Memorial Union
Teacher Education Fair: March 6 / 1-5pm / Alumni Center
Mark your calendar and check one out! Even if you don't land a job, networking experience is always valuable. Best of luck! And remember…