A 3 hour long class?! What is studio?
Current design majors are used to meeting three times a week for at least three hours a day for studio class. But what exactly do we do in this 6-credit course?
Depending on your specific design major, studio is usually reserved for building core skills for your intended profession. While each major is vastly different, a couple things about studio will remain the same.
Studio time
Studio time is always going to be long. At least three hours in fact! But a project based class is always certain to fly by! Rarely do students spend their time listening to their professor talk. Instead, studio is meant for hands on working!
Project Based
For those of you that are hands on learners, studio is just where you want to be! Each studio, no matter the major, will be project based. This is where you come to a designated work space and work on the current project. Studio projects usually cover a decent amount of time, spanning from one week to as long as a full semester project!
Getting messy
By no means is studio similar to your typical college lecture courses. Think of it more as a supervised "homeroom…" like designated work time in high school. This is where you go to be creative and get messy! From drawing to painting to the wood shop, studio is always teaching you new ways to access your creative side.
Deadlines
While students are usually welcome to work at their own pace, studio is known for hard deadlines. This is why most design students are caught pulling all nighters at the College of Design. But don't let this scare you prospective students away, as long as you stay productive in studio, you are likely to survive!
Critiques
At the end of each project, there is usually something called a formal critique. This is where fellow students, professors, and other guests come and review your final work. This can seem intimidating and a little stressful, but the intent of critique is ultimately to benefit you. Being able to receive constructive criticism is a trait design students learn quickly… Did you accomplish your goal? Was your work successful? Which aspects are your strong points or weak points? How might you improve your skills moving forward? It may sound brutally harsh, but at the end of the day critiques are where you get to show off all of your hard work!
So basically, studio is a big deal. This six credit course every semester is going to be where you spend most of your in and out of class time. Again, don't let this scare you away because studio work is fun! And best of all, the time and effort you put into studio work always shows in your final projects! I'd take studio over lecture any day!
To give you more of an idea what studio is like…Here are some photos of a few Iowa States design spaces!
(Armory, Industrial Design Studio)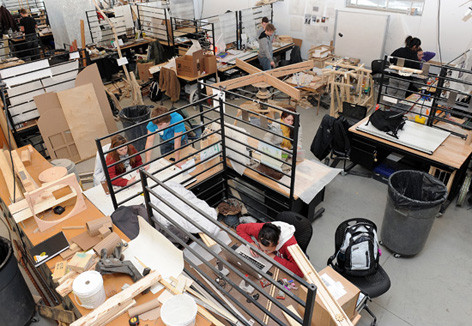 (King Pavillon, Sophomore Architectural Studio)
Thanks for reading!