My Name is Kassidy and I am in Love with my Animal Science Major
I am absolutely in love with my major and here are my major reasons why:
1. The Best Labs by Far
"What are we doing in lab this week?" is usually followed with, "we will be out at the teaching farm". Labs are very hands on which means lots of time spent with animals! Almost all the 200 level courses, especially the species specific courses, require a once a week lab where you get to exercise concepts you learned in class. I have gotten to spend plenty of time out at the many teaching farms (let's be honest, most of my lab hours have been spent on the dairy farm). Yes, I return with unidentifiable stains and a noticeable odor, but I wouldn't want it any other way!
2. I'm Such an Animal Nerd
There it is. I openly said it. I. Am. An. Animal. Nerd. I love learning about the different practices and lingo of the many industries. I love getting to learn more about the industry I want a future in. The topics covered in class never fail to interest me and keep me excited about my future. (You wouldn't believe this if you saw me in my 8 AM. The time of day does play some into the enthusiasm).
3. Dairy Science Club Ice Cream
Enough said.
4. So Many Industries Come into Play
Our industry is so entwined with many industries (and majors), such as agronomy and ag business, that it is impossible to limit yourself to only animal science related courses. We are required to take at least one business course as part of our curriculum but are also encouraged to take some courses in other areas related to our career goals. I took an agronomy course and ended up really loving it. It also opened up new doors for internships which allowed me to grow as an ag professional and help me along my career path.
5.We are an Industry Solely Dedicated to Feeding the World
Once Again, enough said. But seriously, my love of feeding people (and animals) is openly encompassed everyday in this major.
6.The People in My Department Rock
The professors, students, even the office secretaries are AMAZING. I don't think it is humanly possible for me to walk into Kildee and not pass someone or talk to someone I know and see almost every single day. Our department is quite large but the people make it feel so much smaller. Everyone kinda knows everyone. People joke in the hallways, professors stop and chit chat with students. I absolutely love it!
7. The Industry as a Whole is Tight-Knit
The saying, "it's not what you know, it's who you know," resonates so well with animal and dairy science. The people and professionals you meet along the way will be a help to you in the future as you look for jobs or need answers to questions that arise. Through the many networking opportunities provided through the College of Agriculture and Life Sciences and the Department of Animal Science, I have met so many incredible and influential people and have built relationships with many of them that will only stand to be a benefit in the future.
8. Because I get to Have a Future Where I get to Work with These Cute Things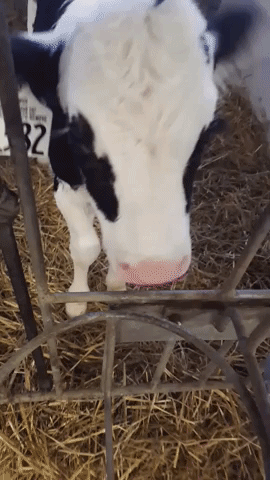 How can you resist something as adorable as this?