Everything You Need to Know About the Design Core: Critiques
Critiques are an essential part of the Design Core curriculum at Iowa State and you will have quite a few of them in your core studio classes. For a more detailed description of these core studio classes, read my previous post Everything You Need To Know About the Design Core: The Classes
The first thing to note is that design critiques are going to be different depending on your professor, the project, and any guests giving feedback. Usually, you will pin up your work (for DSN S 102 this includes all of your process work) and then go around the room presenting it to your peers, professor, and any guests. You will give a short presentation of your process and any challenges you faced and how it inspired your final piece.
For DSN S 131, there is more of a focus on technique and composition while DSN S 102 is more focused on the thought process and your design exploration to reach a conclusive creative decision. After you present, your professor and any guests will usually ask a few questions and then give you feedback. For DSN S 131, this feedback is focused on what you can improve before you turn in your work for grading. For DSN S 102, this feedback is more focused on how successful the project was overall.
It is expected that during the critique you give all of your attention and focus to the person presenting. Because of this, it is very important that you arrive early enough before the critique to pin up all of your work.
Critique Success Tips
Know what you're going to say ahead of time. For DSN S 102, I wrote out everything I wanted to say using the rubric for the project phases as a guideline to make sure I addressed all of the requirements of the project. Then, I highlighted the key statements/main ideas of what I wanted to say and memorized those phrases. This kept me on track when presenting my work because I always went back to those phrases and didn't ramble off on any tangents. Even if you're fairly certain you're not going to blank when you get up to present, knowing what you're going to say ahead of time will only make you feel more confident and less stressed.
Arrange your work in the order you're presenting it. Your audience will look at your work from left to right so make sure you arrange your work in that way. Put your initial sketches where the audience will look first and then start your presentation there. Don't pin your work up out of order.
Save and bring ALL OF YOUR PROCESS WORK. And I mean all of it. For DSN S 102, It's better to have too much work and have to decide what not to pin up than to not have enough work to defend your process when you're presenting. For DSN S 131, your process work can be useful for your portfolio even if you don't present it during critiques so don't throw anything away.
Keep all of your work in good condition. Never sloppily pin up your work. Make sure it looks neat and organized.
Present like you mean it. How you present yourself and your work is so incredibly important for a design critique. Be proud of what you've created and all of the time you've put into it. If you're not confident in what you've created, why should anyone else be?
Dress to impress. This is one of my favorite parts of critiques! Dressing up can give you a confidence boost and will make your presentation more professional. Some common outfits for critiques include the nice pants+dress shirt+tie/fancy necklace combination, the dress+blazer combination, or the skirt+dress shirt combination. Wear nice shoes, style your hair, and enjoy being fancy for a few hours!
Write down your feedback or find a critique buddy. The feedback you receive is going to be helpful when you're compiling your portfolio at the end of the year. Most likely, you won't remember all of the feedback you receive after you present; though, so it's a good idea to find a friend in your class who can write it down for you and then you can do the same for them. If you don't have a critique buddy make sure you write down your feedback right after the critique.
Don't rush. Breathe. Make sure you're speaking slowly and clearly as it's easy to accidentally rush. Take a deep breathe and center your weight so you're firmly planted with both feet on the ground and your shoulders down and back for open posture. If someone asks you a question, pause and take a deep breath before you reply. You've got this.
I look at critiques as a unique opportunity to get lots of feedback on your work and grow as a designer. It's also just a lot of fun sitting with your studio class surrounded by everything everyone's created! Be prepared, confident, and ready to accept feedback and you'll rock it.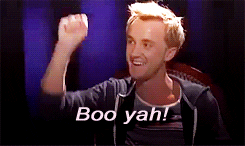 Next up, I'll be concluding with everything you need to know about the grading process and your portfolio!