The first week of college as told by the Parks and Rec crew
It's the first week of college. It's an absolute whirlwind. You get six syllabi and 12 assignments and you aren't even sure where your classes are or what you want to do with your life and all of this is hitting you like a ton of bricks. Not to mention, you're still trying to carve out a social life. But, then things start to slow down. You take a few deep breaths. Everything doesn't seem so bad anymore. Actually, this whole college thing seems pretty cool, right?
The Parks and Rec crew helps us walk through the first week of school in Gif form:
You wake up in the morning, get ready and start waiting for your first class like…
Leslie is either your mom or BFF, or maybe both.
A few classes in and it feels like you have a zillion things to do.
YOU ARE DONE FOR THE DAY AND IT'S NOT EVEN TWO O'CLOCK!
And the next day you're back at it again.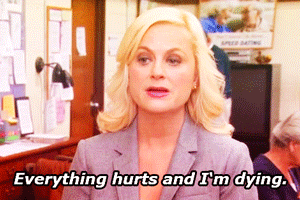 Your enthusiasm declines and the weekend seems like it'll never come, but your effort hasn't wavered.
You get a little tired of dining center food and try to make your own cuisine. It goes well.
ANOTHER morning of waking up for that 8 a.m. class.
It's almost the weekend. We're getting close!
ONE LAST DAY OF SCHOOL WORK.
Boom. Fridays after class.
Forget three years later. You'll be walking into class next week like a seasoned pro.
And no matter what happens your first week, no matter how many panic attacks you have, no matter how overwhelmed you get, just remember: You're doing better than Garry/Jerry/Larry/Terry/Barry.