What is going on tonight?
Guys! It's the start of the semester and I'm so ready for it!
After a wonderful summer we're now back to another semester of classes…but also another semester of trying new things and new adventures! Which brings me to one of the first exciting things you can try this semester: AfterDark!
If you've never been to an AfterDark event before, this pretty much sums it up: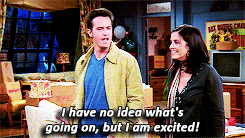 Because honestly, there's something different every AfterDark with things to do, things to see, all around the Memorial Union…and you don't really know what it might be, but it's exciting! Now, AfterDark only happens three times a semester, so you don't want to miss out on the opportunity of free entertainment and pirzes, right?
I thought so!
But now your question might be: "what is going on at this AfterDark then?" I'll try to list those out for you right here:
David Koechner as seen in Anchorman and NBC's The Office! And of course, by those appearances you might have guessed he will be bringing some laughs to the podium!
Brett Morin, from NBC's Undateable! One more comedy show for the night!
For treats, they'll be having an ice cream sundae bar!
Karaoke, of course. Remember this is a new year and you're trying new things…grab a microphone and sing that tune you've been singing in the shower for years. Or make your friends do it with you!
A photo booth to remember that night!
Live music from Noah Guthrie, of Glee! Side note: his raspy voice is truly amazing. If you're one of those people who stuck around until the very end of Glee (I'm NOT ashamed of this) you know this is a fact!
CyBowl and Billiards will be open on Friday for free!
Also, the craft of the evening will be washi tape pencil boxes. Try starting your semester on a colorful note!
Now, there are two things I'm most excited about for this AfterDark. One of them is that an artist will come by and draw caricatures! I have always, always wanted a caricature of myself, but you need time for that, and when travelling and touring around cities, my family never did. Now my mission is to finally get my caricature self, frame it and show it off to everyone.
Second thing is, Bingo. AfterDark Bingo is a completely different level of bingo. Loser bingo, neighbor bingo, dance-offs, "B-4 what?"…those are things you'll be familiar with once you play it. Did I also mention there's about $1,000 in prizes? Gear up for the year and maybe win a coffee maker!
Now, "where is all this taking place again?" AfterDark and all its activities will take place at the Memorial Union--or I must say, the MU (have you guys reviewed your ISU lingo, yet?)
But really, other than what I just mentioned, the greatest thing about AfterDark is the environment of the event. The AfterDark community is full of fun, welcoming, and competitive people, and it really is a great, healthy way to spend the first Friday night of college! OH! I also love that everything is free. Yes, FREE!
You never know…you might meet your future best friend at Bingo, or even your future spouse–true story. The possibilities are endless and it's all bound to be an adventure here at Iowa State.