Internships Galore and Where to Find Them!
As a journalism student, one of our graduation requirements is landing an internship. That sounds so daunting to do on your own, but don't worry: Iowa State has your back. For all my freshmen, you've probably been to your first career fair last semester. How did they make you feel?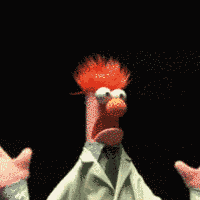 [HEY! Calm down because I have some news!]
Well, there are the spring semester career fairs coming up, so looks like it's time to get ready for your dream company by getting the right information:
---
For all my agriculture majors, the Agriculture and Life Sciences Spring Ag Career Day is coming up fast.  It'll be in the Memorial Union on February 1 from 10:00am – 2:00pm.
For all my engineering friends, the Engineering Spring Career Fair takes over both Hilton Coliseum and Scheman Building on February 7 from noon – 6:00pm.
For my future entrepreneurs in the College of Business, Hilton Coliseum is the location for the Business, Industry and Technology Spring Career Fair, taking place on February 8 from noon – 6:00pm.
For the LAS and Human Sciences students, there is the People to People Spring Career Fair will also be on February 8, running inside the Scheman Building from 1:00 – 5:00pm. (NOTE: This career fair will be more focused on human/social services, education, health/wellness, government, and hospitality)
For my fellow journalism, public relations and advertising friends, the Great Hall in the Memorial Union is hosting the Jump-Start Internship and Networking Fair on February 15 from 12-4:00p.m.
For the College of Design students, be ready with your design portfolio for the Design Career Fair takes place in the Memorial Union on March 2 between 12 and 5:00pm.
For the future teachers, get ready for the Teacher Education Fair on March 6. It'll be in the Alumni Center from 1:00 – 5:00pm.
---
That's the complete list of this semester's career fairs. You can also head to CyHire if you want some extra help landing the perfect internship, which could become the perfect job/career!
Now that you have the information, it's up to you. Make sure you mark your calendar, practice your elevator pitch and always have a gleaming smile.
[Oh yeah and dress for success!]
Happy Job Hunting!