Spring has Sprung in Ames
After a long, blustery winter (actually one of the nicest winters I've experienced in Iowa…), spring has finally sprung! Now that you can go outside without 5 layers of coats and sweaters, it's time to check out some of the most scenic areas in Ames to catch the spring blooms in action!
Reiman Gardens
Located just south of Jack Trice, Reiman Gardens is free to all ISU students. They change out plants pretty often so there's always something new to see. Plus the butterfly wing is worth checking out in and of itself!
 
This photo of Reiman Gardens is courtesy of TripAdvisor
Pammel Woods
This hidden gem is the perfect escape from your hectic day. Its location on the northwest corner of campus makes it very accessible, and it's incredible in early spring as the small ephemerals come out of the ground and the trees begin to bloom.
Brookside Park
Located just off campus, Brookside is the perfect place to relax on a weekend or weekday afternoon. You can see the plants blooming along the river and pack a picnic lunch to enjoy in one of the shelters or in a hammock between the trees.
Ledges State Park
While Ledges isn't quite in Ames, it's worth the short drive to check out! Hike the many trails and watch as spring unfolds. Just be careful if you plan to go after it rains–it tends to get very muddy very quickly!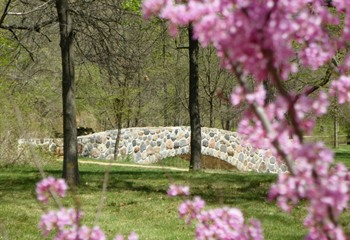 Campus
At the end of the day, can you really beat campus?? We spend every day walking across it to and from class, but take some time to appreciate how gorgeous it is. The landscaping crew does a great job maintaining the large selection of plants, so check 'em out!
Spring is a beautiful time of year in Ames, so enjoy it in all of its glory!