Do You Need a Car on Campus?
…The short answer is no, you don't need to bring a car to campus.
But, it's worth weighing the pros and cons as it depends on your individual transportation situation.
Last year when I lived on campus, I had a parking pass for the Towers lots which was a ten-minute bus ride away. I only really used my car to go home to Minnesota and would often carpool with other people. I also went to Des Moines a few times, but again, I found it easier to just take the bus around campus and Ames. Cyride was (and is) my best friend.
This year, I live off campus and have my car parked at my apartment. I use it much more than I did last year for my off-campus job and to go places with my friends around Ames.  I still use the bus to get to campus every day instead of driving because it's more convenient.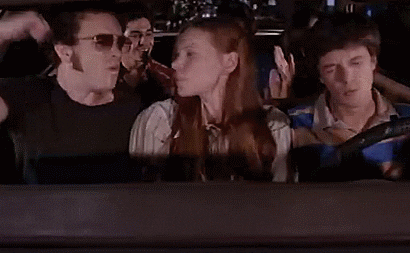 Proof that carpooling is more fun than just driving alone 🙂
When deciding if you're going to bring a car to campus, here are some things to consider:
If you're mainly staying on campus and in Ames, Cyride can take you everywhere you need to go and having a car parked at the Towers Lot probably won't be very helpful.
Do you have friends from home who are bringing cars? Carpooling for breaks and trips is always a smart idea.
Enough people have cars on campus that you can easily find people to carpool with from group events.
If you're getting a job off-campus, check the Cyride bus schedules. There are buses that frequently go around Ames, meaning you wouldn't have to worry about parking your car at the job.
Parking, gas, and car maintenance all cost money.
Something else to consider is that learning how to navigate public transportation is an important life skill if you're planning on moving to a bigger city someday. Cyride is the perfect bus system to start with.
But, there are also several reasons why having a car on campus would make sense:
Check job descriptions and see if having your own mode of transportation is required for the positions you're interested in.
If a parking space is included in your rent, that would eliminate one of the major costs of having a car on campus.
You won't have to worry about checking bus schedules and relying on buses.
Buses don't run as frequently on weekends, so if you need to travel around Ames frequently that might be problematic.
So, with CyRide and lots of carpooling opportunities, you really don't need a car to get around campus and Ames. But, it's worth looking into bus schedules, parking pass costs, and possible jobs around Ames before you decide.