The Hiring Process as a Full Time Student
I recently applied for a job here in Ames and realized I hadn't applied for a job in a long time. My résumé was out of date, I needed to work on my interview skills, and I had to take a long time out of my day to actually complete the application and make sure I did it well.
Overall, I kind of forgot how time consuming the hiring process was, and being a college student who's also already working, I wondered if I even had the time or the correct skills to go through it.
If you're a college student, odds are you are going to go through the hiring process sometime soon if you haven't already. I'm here to tell you: You CAN do it! You just need to be prepared and confident. Here's a few things to help guide you through applying for a new job.
The Résumé
Your résumé is usually the first impression a potential employer has of you so it's very important to make it look professional and make yourself look good.
Some people, like myself, were fortunate enough to have a class in high school that required you to make a résumé, but I know a lot of people have never made one before. If you haven't, check out my post about how to make a résumé here: How to Build a Great Resume
Before submitting your résumé to a new employer always make sure to review it and update anything that needs updating. This includes new skills or clubs, the end date of a previous job if you've recently quit a job, and always make sure you have the correct contact information.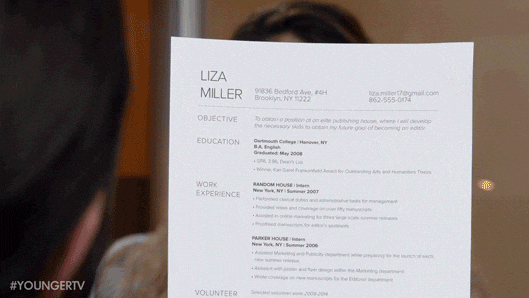 The References
References can make or break you. Even if you have an amazing résumé, if your references speak poorly about you and your work ethic it shows future employers a lot about how you are likely to act if they hire you to work with/for them.
You want to make sure to not only supply a list of references that will speak highly of you, but also do your best to make your reference list stand out. It is much more impressive to have the head of a department or owner of a company speak about how great you are instead of someone like a family member who basically has to say nice things about you. (Sorry mom!)
The Interview
Going into an interview you want to make sure you look professional. Remember, this includes much more than just your outfit. You have to be mindful of how your hair looks, how you apply your makeup, even how your nails are cut. If you go in looking sloppy then they might assume that you'll be sloppy in the job you are being interviewed for. You can only make one first impression, so make it count!
One very important tip: Don't lie. Just don't do it. If you lie in an interview, first off, they will most likely figure out that you're lying and that will make them think that they can't trust you and they probably won't hire you because of that. Second, if you do get away with it and you end up getting the job, you then have to either maintain that lie or admit that what you said wasn't true. Either way, you'd be wishing you were just honest in the first place.